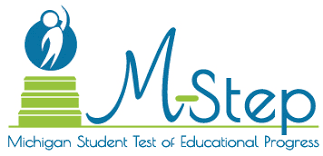 Dear Parent(s)/Guardian(s),
Michigan Department of Education, each spring, districts across the state of Michigan administer the Michigan Student Test of Educational Progress (M-STEP) to students in Grades 3-8. The M-STEP will be given online to all students and will measure current student knowledge of Michigan's high academic standards in English language arts (ELA), mathematics, science, and social studies.
(Michigan Department of Education)
Lincoln Elementary M-STEP Assessment Schedule
The dates during which the test can be given have been extended by the Michigan Department of Education, which gives us more flexibility to schedule the tests when it is safe for students and staff, allow for additional social distancing, and provides more time to make plans for the best health safety practices.
Lincoln Elementary's entire M-Step assessment window runs from April 12-May 28th and will be administered on site, at Lincoln Elementary.
Please refer to the attached M-Step Assessment Schedule for a complete list of grade-level testing dates/times.
Note: Parents can select one of two dates to have their child tested for the ELA and Math Assessments.
M-STEP Grade-Level Testing Dates/Times

M-STEP Testing During Covid-19
At this time the State of Michigan has advised schools to plan to assess as many students as possible, and as safely as possible, while following local and state COVID-19-related directives. The spring state assessments are required to be given in-person, but testing will only occur if state and local health orders and district policies for COVID-19 allow students and staff to safely be in school buildings. Like so many other things this year, our protocols for conducting spring state assessments will look different in order to protect the health and safety of our students and teachers.
We will continue to monitor health data for our community and will make any other changes to our spring state assessment plans necessary to keep our students, families, and staff safe.
Here are some steps we have taken to keep students and staff safe during the tests:
Completion of daily Covid screener
Universal and correct use of masks

Physical distancing 6 ft or more (NOT 3 ft) for students and tables/desks

Handwashing and respiratory etiquette

Increasing ventilation, and ensuring students and staff wash their hands or use hand sanitizer before and after the test.

Cleaning and maintaining healthy personal space, including hand sanitizing stations

Mandatory use of personal district issued laptops

Sanitized pencil stations (as needed)
Plan Ahead
The M-STEP Assessment Calendar is set by the State of Michigan, and cannot be changed. It is imperative that parents/guardians double check the testing dates to ensure that their child is available on testing days. It is understandable that illness and emergencies pop-up, however, try to avoid scheduling appointments or activities that could interfere with your child's testing schedule.
District Food Service During M-STEP
Breakfast will be available for students upon their arrival, on the day of their scheduled tests. Students will also receive water bottles in place of drinking fountains.
Lincoln Elementary M-STEP Positive Testing Environment
The goal of Lincoln Elementary staff is to provide our 3rd-5th grade students a safe, positive and stress free M-STEP testing experience. Parents can help support this goal by being involved and informed. Please take some time to review the Parent M-STEP brochures, located below, as they provide a wealth of information on the importance of parent involvement as well as tips and suggestions on how to support your child.
For additional information on M-STEP: What It Is-What It Means-What It Offers, please visit the attached brochure
What M-STEP Is What It Means What It Offers
For information about how you can help prepare and support your child throughout the M-STEP testing window, please visit the attached brochure below.
How Parents Can Help Support Their Child
Your positive outlook and supportive manner going into these assessments will also influence your child's experience. Remember, testing is a part of learning. State assessment results do not impact student grades. They are designed to provide information on student knowledge and ability in relation to state grade-level content standards. (Michigan Department of Education)
Should you have any questions associated with the above information, please do not hesitate to contact us directly at any time.
Thank you,
Stephanie LaBelle
Principal-Lincoln Elementary
New Swings
One of our goals a few years ago was to raise money for new playground equipment. With the help of a very generous donation and the hard work of our families, we were able to raise enough money to purchase 3 swing set bays and the ground protection. The swing sets and ground protection was installed a couple of weeks ago. We are waiting on some safety inspections and then we will add the swings.
We want to give a special shout our to Mr. Turner (PE Teacher) for putting this project together,