Car seats can help to save lives! There will be a free car seat inspection this Sunday in Fraser, or you can call to set one up soon. Again, this is free of charge to you. See the flyers for details and have a safe weekend.
CTE is in the news! Last Thursday, The Macomb Daily featured our unique and robust Manufacturing Tech class and new instructor, Mike Winter. Many of our students are pictured learning necessary skills for lifelong careers with our business partners and more. This is just one way our LHS SMTEC students are showing off their readiness skills.
Our students in Ms. Lipiec's Dental Assistant program were able to work with Detroit Mercy Dental last Tuesday, where students were taught how to do dental impressions from university level dental students. It was a great experience and clearly brought out lots of beautiful smiles!
Special Services Department Categorical K-5 classes get together for a Thanksgiving Fall Feast & festivities.....with a special surprise visit from our Warren Firefighters! Such a great time had by all today! HUGE thank you to ALL our amazing staff!
Good afternoon, Van Dyke Community. Don't forget that we have a very short week due to the Thanksgiving Holiday. The district will be closed Wednesday, Thursday, and Friday. We hope your days are filled with family, friends, and food. We are grateful for all of you!
On this beautifully sunny day, I hope our learners feel just as sunny on the inside. Be sure you remember who you are what makes you, you!
Happy Weekend, everyone! Why be complacent when you can take a cue from our Kennedy Early Childhood Center? What will you become, and how will you impact our world?
Good morning, Van Dyke Community. Let's give thanks and a salute to our many brave and proud Veterans who have served. Today is Veterans' Day Observed, and tomorrow is Veterans' Day. Honor their sacrifices all weekend long.
Are you ready to sing your heart out? Join one of our own LHS Grads, Emily Emerson, in The Warren Youth and Teen Chorus and try out your chops. See the information sheet below and make it happen.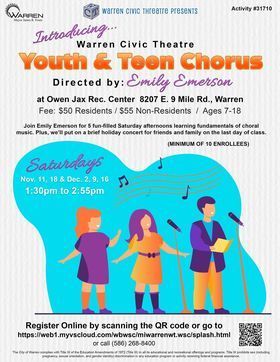 Van Dyke families: Your Thursday night plans have arrived! Tonight, at Center Line HS, this vaping informational presentation is available for you free of charge. Attend to find out more and help keep your child safe.
Good morning, Van Dyke Community! Don't forget about the Protecting Young Eyes presentation this evening at our Auditorium. Come join others to hear about how frequent use of technology is affecting young brains, and how to monitor & respond to today's pressures. We'll see you there at 6:30.
There has been a lot of excitement in Ms. Lipiec's Dental Assistant classes as of late. Here, you can see current students Alyshane, Teirra, and Janah practicing anesthetic needle safety during class. You'll also see a visit from U of Detroit Mercy, and a visit from LHS Grads Kamryn Ivy (dark grey scrubs) and Diamond McBride (teal scrubs) to talk about how their work in the dental field.
It's so exciting to celebrate our students and their accomplishments in Van Dyke. Congratulations to our college-bound LHS seniors, with acceptances pictured below. Ms. Ritter couldn't wait to share names, and we're so proud of you! More to come as we hear from more schools...
Van Dyke Community: During Friday night's final regular season home football game, we will be celebrating the life and contributions of Ms. Nila Carter, former VDPS educator and longtime dedicated Van Dyke supporter. Come on out to our Stadium at 7:00 to see friends and honor Ms. Carter, because if you know Van Dyke, you know Nila! We'll do a special presentation and dedication at halftime.
A true VDPS legend, the First Lady of Warren, Queen of Macomb County: Eleanor Bates has sadly passed away, but not before making an impact on the lives of countless people around her. We know so many will want to pay their respects. Thank you, Eleanor, for serving the school community and beyond with grace for decades.
https://www.dignitymemorial.com/obituaries/warren-mi/eleanor-bates-11497793
Are you worried about technology, SOCIAL MEDIA, and how it seems to take over your child's free time? Concerned about inappropriate messages, content, and how it can affect the brain? Mark your calendar for next Tuesday, October 24th at 6:30 and share an evening with us talking more about this inevitable phenomenon. We'll see you at the VDPS Auditorium for Protecting Young Eyes. Tell a friend or two, and let's make it a great night.
Support the Abes and their journalistic abilities. Help Ms. Johnson and her Yearbook crew get a new DSLR camera! You can vote for the winning grant submissions five times each day until October 22nd by clicking here:
https://www.classroomcash.org/voting/submit?id=161
Today is World Mental Health Day! Take care of yourself and others, and remember that you never know what someone might be carrying with them daily. Thank you so much to all of the mental health support staff in our schools and beyond. We need you every day. Don't hesitate to reach out to someone if you need help or extra care.
Good evening, Van Dyke Community. There's a need to clear up a rumor that is floating around on social media. The real facts are here: Today, we had a brief, less than ten minute lockdown at Lincoln Elementary so that the Warren PD could investigate a call they received. The report was false and there was no suspect in or near our schools. Everyone is safe and tomorrow will again be business as usual.